YOUR CONTAINERISED CARGO IS IN DANGER…
THIS IS HOW WE CAN HELP YOU
Desiccant is most commonly used to remove excessive humidity that would normally degrade or even destroy products sensitive to moisture; such products might be placed in any closed environment, e.g. sea-going containers, food basket, medical box, shoe box, furniture cart, plastic bags, so on and so forth.
A desiccant is a hygroscopic substance that induces or sustains a state of dryness in its local vicinity in a moderately-well sealed container. Desiccant is most commonly used to remove excessive humidity that would normally degrade or even destroy products sensitive to moisture.
Silica gel, calcium sulfate, calcium chloride, montmorillonite clay, and molecular sieves are commonly used as desiccants.
Amongst those, calcium chloride or commonly known as salt has a natural antibiotic and anti-fungal effect and is not harmful to humans when consumed in moderate quantities, hence its popular use as drying agent. On the contrary, some silica gel, such as colored silica gel, is dangerous for human. It is toxic and can cause cancer. That's why it is an obligation for any silica gel producer to put label "do not eat" on the packaging of silica gel. Clay is also popular base material for packaged desiccant, because it is quite effective in absorbing moisture and the cost of production is quite low. The down side of clay as desiccant is that clay absorbs moisture but it will release it once it gets its saturation level or when we heating it. The same feature is exit in silica gel. That's why both clay and silica gel can be recycled by thermally induced drying, for example, in a conventional kitchen oven, or with solar energy.
HOW DOES DESICCANT WORK ?
Desiccants protect products through a process called "ad"sorbtion. Unlike "ab"sorption where one substance is chemically integrated into another, during adsorption, moisture is held inside a desiccant by physical bonds; no chemical change takes place. Along with protecting products from external elements, a certain amount of moisture inherent in all hygroscopic (moisture absorbing) items can also be trapped within chambers. Desiccants adsorb this moisture quickly and thoroughly, preventing condensation during transport and storage.
IS DESICCANT A DRYING AGENT ?
As matter of fact, desiccants are not drying agents. It is impossible to create 0 % of Relative Humidity (RH) inside a container by using desiccant. This is due to the fact that the hygroscopic balance in nature dictates an equilibrium in the container with the air, the cargo, the packing materials and the container floor.
Desiccant, however, can lowered and stabilized Relative Humidity (RH) inside a container, thus the possibility of condensation in container is minimized, which will then reducing the possibility of rust, mildew, fungi, and mould in an extended period.
There are many desiccants available in the market now that carry the word of "DRY" as part of their trade names. As such, many people have been mistaken by this as they thought that desiccant was a drying agent.
Product
CARGOSAFE A REGISTERED TRADEMARK (NO IDM 00549630)
ALL RIGHTS RESERVED
Furthermore, our CARGO SAFE brand has been registered in Indonesia Trade Mark Office under certificate number IDM000549630.
Our products have been tested by international and independent testing companies, such as SGS Singapore, PT Sucofindo, and PT SGS Indonesia.
We have gotten following quality certificates
Absorption performance test report issued by PT SGS Indonesia on March 2020 testified that our product can absorb moisture of minimum 130 (one hundred thirty) percent of its original weight.
Our product is free from DMF and has followed ROHS Directive as confirmed by SGS Singapore test result.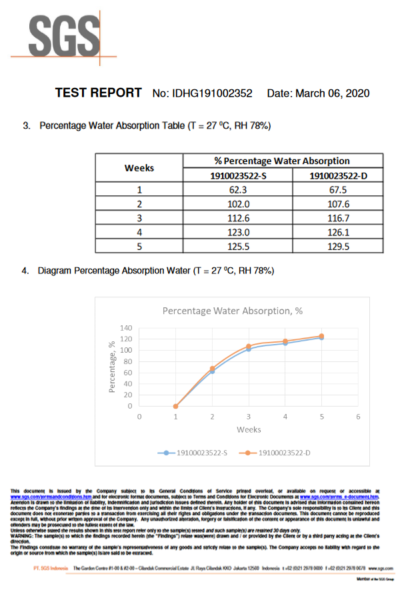 CARGO SAFE INTERNATIONAL
Ruko Taman Puspa Sari No 05 RT 01 RW 05 Kel Kalipecabean Kec Candi Sidoarjo 61227
Phone             : –
Phone Office : +62 3199 – 704 – 608
E-mail            : marketing@saveyourcargo.com